Wall Street Learns to Dance Bitcoin's Tune
Wall Street was never supposed to get Bitcoin. Financial institutions are the bogeymen of virtual currencies, starting with the original Bitcoin white paper that outlined a payment method designed to bypass banks. The yin of crypto anonymity runs counter to the yang of financial regulations tracking clients and combating fraud. Just ask virtual currency firms with whom they bank.
Yet here we are. As the currency soars to a record, financial firms' attitudes are softening. On Tuesday, CME Group Inc. said it will start a Bitcoin futures contract. Goldman Sachs Group Inc. is reportedly weighing a trading desk for virtual currencies, while Morgan Stanley's CEO says Bitcoin isn't inherently bad and more than just a fad. At a time when big investment banks are finding regular financial markets hard going, as Gadfly's Stephen Gandel has noted, Bitcoin seems to offer old-school, volatile thrills. Or, as one expert describes it: "Capitalism distilled."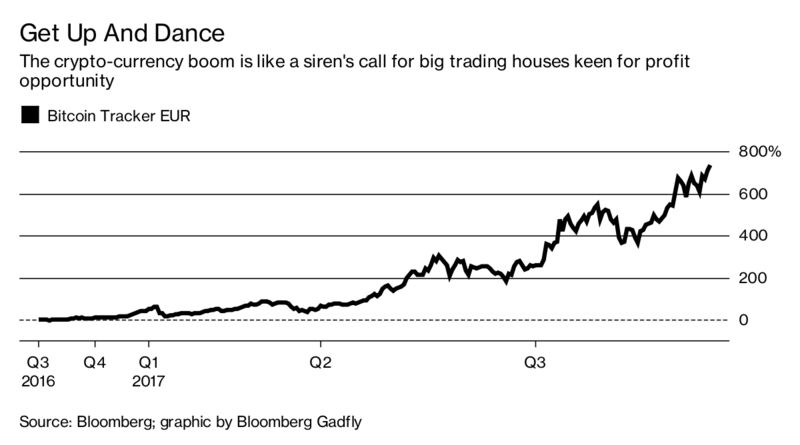 There are many sound reasons to resist this siren crypto call. A crypto desk would likely have to hold Bitcoin to protect its clients and hedge its trades, which means direct exposure to a volatile and risky asset that has experienced big price shocks in the past. And hackers would no doubt redouble their efforts to breach the broker's cyber-defenses. Extra reward comes with extra need for risk management, cyber-security and compliance. Higher operational risk looks likely.
A firm like Goldman or Morgan Stanley would also surely offer a lightning rod for regulators' concerns about crypto-currencies. So far, supervisors seem to have no real answer to the Bitcoin boom beyond waiting to see where it goes. It's hard to define virtual currencies and it's hard to regulate them, but banks are a different story. A regulated bank would have to protect clients, quantify the risk of losses and hold provisions accordingly. Adapting to anti-fraud rules also seems tough, as reported crypto bank account closures attest.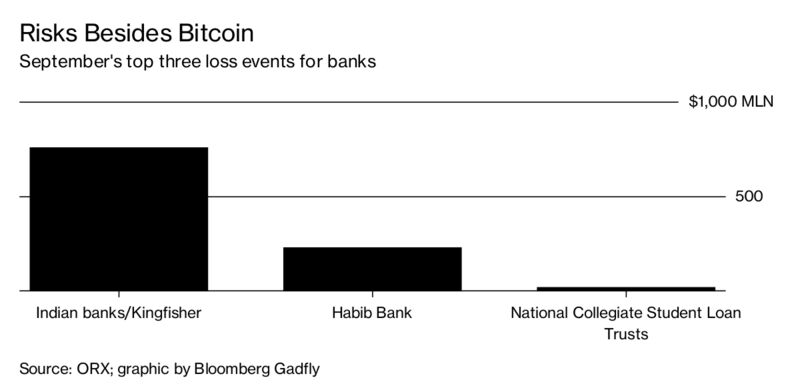 But absent a sudden market shock in crypto-land, the lure of greed and fear is getting harder to resist. Banks are living in competitive times. Hedge-fund clients are said to be pushing brokers to start dealing Bitcoin, and the risk of a rival getting there first rises with every new price record.
This year has seen 84 crypto hedge funds open their doors; there's already a fund-of-funds on the way; there's a federally regulated virtual currency options exchange.
Given the CME's latest move, at what point does a Bitcoin trading desk seem like a no-brainer? Assuming a market share equal to 5 percent of volumes traded in Bitcoin, Ethereum and Ripple, and fees charged at 20 basis points, a crypto desk could rake in $75 million of revenue a year, according to Greenwich Associates. That's equivalent to about 5 percent of Goldman's quarterly fixed-income revenue.
All this is redolent of former Citigroup boss Chuck Prince's words on the eve of the financial crisis: "As long as the music is playing, you've got to get up and dance." Bitcoin is a dance every bit as manic as the famous market bubbles and panics tracked by Charles Kindleberger. But Wall Street trading desks are being told to get up and start swaying. If Goldman won't do it, someone else will.
Read more: http://www.bloomberg.com/news/articles/2017-11-01/if-goldman-sachs-won-t-trade-bitcoin-someone-else-will