The Crypto Candidate for Congress
Over the past year, Bitcoin's meteoric rise—and recent plunge—has captivated the financial world. The political world? Not so much. Washington remains stubbornly ignorant of cryptocurrency and blockchain technology. But that may soon change. A roster of prominent crypto investors has piled in to support a first-time Democratic congressional candidate, Brian Forde, who's looking to unseat the incumbent Republican in a pivotal Orange County, Calif., race that could determine which party controls the House of Representatives after November's midterm elections.
Forde's appeal isn't hard to discern. Before running for Congress, the 37-year-old coder was director of digital currency at MIT's Media Lab and a technology adviser in Barack Obama's White House. Forde says his tech and business background is a good match for California's 45th District, an historically GOP area currently represented by Republican Mimi Walters, but one whose well-educated, minority-rich populace also chose Hillary Clinton over Donald Trump by 5 percentage points. "Tech is one of the fastest-growing economic sectors in the district," Forde says. "In addition to our fair share of unicorns—from Broadcom to Blizzard Entertainment—Amazon, Google, and others have offices here, too."
It's Forde's expertise in cryptocurrency that's attracted marquee Bitcoin evangelists such as Pete Briger of Fortress Investment Group; Brad Burnham of Union Square Ventures; the investor Mike Novogratz; and famed Facebook litigants Cameron and Tyler Winklevoss, who founded the Gemini cryptocurrency exchange. "Brian understands the power of emerging technologies and how to foster and shape them in a way that has a positive impact on people and organizations," says Tyler Winklevoss. Bitcoin's recent roller-coaster ride—falling as much as 70 percent after hitting a high of $19,511 on Dec. 17—has only intensified the industry's desire to have an ally in Congress.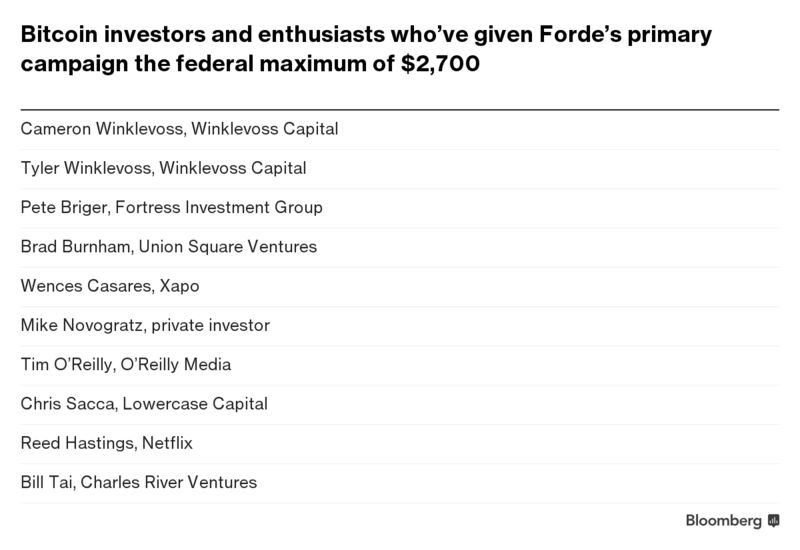 Forde's Bitcoin bona fides are so strong that many of those donors have contributed actual Bitcoins to his campaign rather than write a check, the old-fashioned way. Federal Election Commission records indicate that although his campaign is barely six months old, Forde has already amassed more Bitcoin contributions than all previous congressional candidates combined.
"He's walking the walk and speaking our language," says Stan Miroshnik, chief executive officer of the Element Group, an investment bank focused on digital-token capital markets, who last summer gave Forde 0.656 Bitcoin (then the equivalent of the FEC's $2,700 limit on primary campaign contributions). "If you're willing to go through the pain of actually taking cryptocurrency, it's a great endorsement of the philosophy we're all pushing." These contributions flow to a Bitcoin wallet and are converted by Forde's campaign to U.S. dollars through a Bitcoin exchange. Powered by cryptocash, Forde's fourth-quarter fundraising total beat the entire field of candidates—including Walters, a sitting congresswoman.
Yet there are reasons beyond a shared enthusiasm for blockchain decentralization that so many Bitcoin investors would like to send Forde to Congress. As cryptocurrency has exploded from a fringe passion into an $800 billion capital market, regulators are taking notice. "By and large, the government has been very quiet on cryptocurrencies and Bitcoin," says Justin Slaughter, a former top aide at the Commodity Futures Trading Commission who now consults on fintech regulation as a partner at Mercury Strategies LLC. "Partly because it's so new, partly because a lot of people don't understand it yet."
The high-profile collapse of several cryptocurrency exchanges, fears of fraud and price manipulation, the susceptibility of exchanges to hacking, and concerns of an asset bubble have all led to the expectation of more government oversight. In recent days, Bank of America, Citigroup, and JPMorgan Chase announced they would bar customers from using credit cards to buy cryptocurrencies, and Facebook said it would ban ads promoting them, including Bitcoin. "It would benefit the crypto sector to have one of our own in Congress," says Fred Wilson, a Forde donor and partner at Union Square Ventures.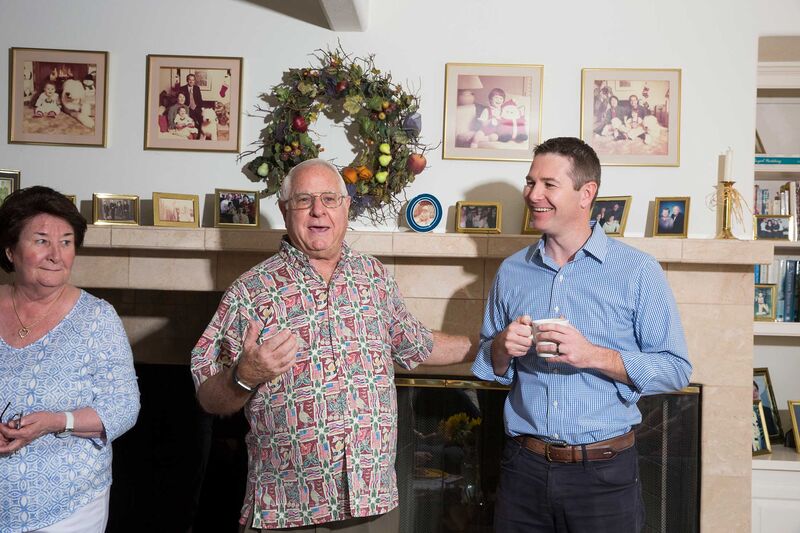 Forde is no stranger to emerging tech that falls into a regulatory gray area. In 2005, after serving as a Peace Corps volunteer in Nicaragua, he co-founded Llamadas SA, a low-cost internet phone service provider that used Voice over Internet Protocol, then a new technology. "That tech wasn't legal or illegal—it was just new," he says. "So my biggest concern was that the government would end up on the wrong side of history with how it regulated VoIP."
Forde sees the same risk in how the U.S. government tackles crypto, and he wants to make sure that overly aggressive regulation doesn't drive the U.S. industry overseas to somewhere like Switzerland with more accommodating rules. "You have to protect consumer rights and consumer safety," he says. "But we also need to allow for innovation. You want to create 'regulatory sandboxes' for these emerging technologies to grow. My concern is that when you apply strict regulations to small startups, they'll be forced to apply so many resources to compliance that they won't have the resources to build and innovate."
Those like Forde and his backers hoping to nurture the nascent U.S. crypto industry see two primary hurdles. One is government ignorance. "I've been working on crypto with policymakers for years," says Jerry Brito, executive director of Coin Center Inc., a nonprofit focused on public policy issues involving cryptocurrency. "The good news is the level of awareness has improved dramatically, and there's real curiosity. But they still could not explain to you how Bitcoin works." In December, the crypto community got a scare when Senators Dianne Feinstein and Chuck Grassley—both 84 years old—introduced an anti-money-laundering bill aimed at terrorists and counterfeiters that appeared to criminalize concealed ownership of cryptocurrency. (The bill hasn't advanced.) "So much of what could go wrong with Washington and this technology would not happen out of malice, but out of ignorance," Brito says.
The other hurdle is the balkanized U.S. regulatory structure overseeing this technology. "We have a regulatory breakdown," says Slaughter, the former CFTC aide. "There isn't consistency between agencies. Most countries have a single market regulator, but ours is split between who regulates futures and who regulates equities."
Recently, the agencies have appeared to move in opposite directions. In December, the CFTC allowed two futures exchanges, CME Group Inc. and Cboe Global Markets Inc., to begin offering Bitcoin derivatives. At the same time, the Securities and Exchange Commission has cracked down, halting initial coin offerings and disappointing companies eager to launch exchange-traded funds tied to Bitcoin, including one backed by the Winklevoss brothers. In January, Bloomberg News dubbed SEC Chairman Jay Clayton "Washington's chief cryptocurrency skeptic."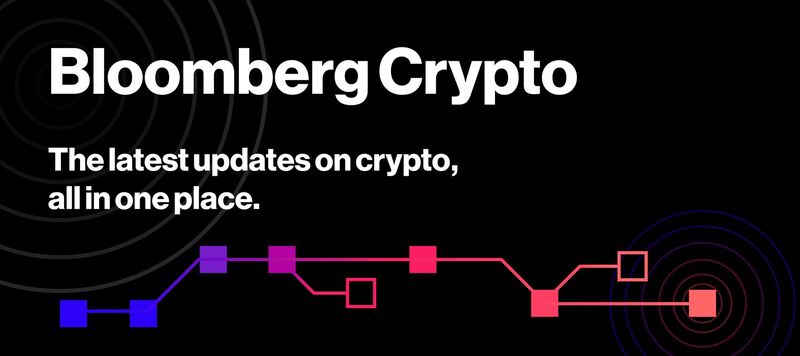 Bitcoin's steep selloff over the past two months has added urgency to the push from regulators as the psychology among retail crypto investors shifts from FOMO to "Oh, no!" Says the Element Group's Miroshnik: "Regulators are all trying to catch up to what's happening."
Having an ally in Congress to push for clarity and consistency would help smooth out this regulatory tangle. Forde himself has been caught up in the confusion. The FEC has offered little guidance about how candidates should handle Bitcoin beyond a 2014 advisory opinion that said candidates may accept a total of $100 in Bitcoin currency as contributions. Forde's campaign has asked the FEC for guidance on how to report contributions as high as the maximum limit of $2,700 and whether they're acceptable. But it's unclear whether any guidance will soon be forthcoming. "It's really a microcosm of where our government is on this stuff," says Joe Bowen, Forde's campaign manager, who adds that he believes all Forde's donations comply with FEC rules.
Those donations could be critical to Forde's candidacy—and to Democrats' chances of winning the seat if he finishes among the top two candidates in the June 5 primary. (Under California's "jungle primary" system, all candidates run in the same primary regardless of political party, with the two top finishers facing off in November.) "We've had a lot of success raising cryptocurrency," Bowen says. "Proportionately, it's a significant part of our fundraising program, around 20 or 25 percent of what we've raised."
Whichever Democrat prevails—Forde's main rivals, David Min and Katie Porter, are law professors at the University of California at Irvine—will need a substantial war chest in November. The incumbent, Walters, is one of 23 Republicans nationwide in districts Clinton won and a top target of national Democrats, who will probably need to capture the seat if they're to pick up the 24 necessary to win back the House.
Should Forde become part of a Democratic wave in November, he says, he'll usher in more than just a new majority. "We've got all these emerging technologies that are going to have a big impact on our economy and our lives," he says, "yet we don't have the folks in Congress who understand that."
 
.
BOTTOM LINE –
Some of the top cryptocurrency investors have given money to Forde's campaign for Congress in hopes he can be an ally in Washington.
Read more: http://www.bloomberg.com/news/articles/2018-02-08/bitcoin-s-candidate-for-congress