As Nordea Bank AB blazes a trail in Europe by banning its employees from trading Bitcoin and other cryptocurrencies, the regulator is taking a back seat in a decision-making process it says is better left to the industry.
Sweden's Financial Supervisory Authority thinks "every institution must decide on the details of their internal regulations specifying the rules for their employees' investments and trading," spokesman Peter Svensson told Bloomberg, in response to questions about Bitcoin guidelines.
The hands-off approach may surprise some who associate the Nordic region, and Sweden in particular, with a more activist stance toward regulation. In other parts of the world, authorities are cracking down on Bitcoin and cryptocurrencies like it amid concerns its wild price swings pose a threat to financial stability.
How China's Stifling Bitcoin and Cryptocurrencies: QuickTake Q&A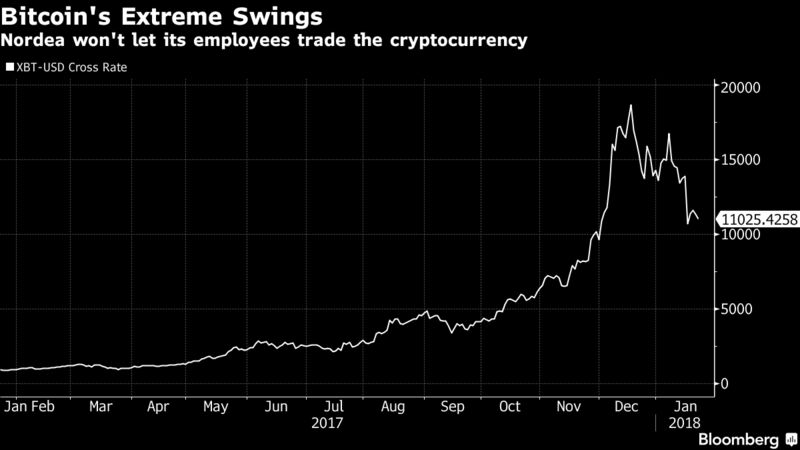 While Nordea's regulator isn't stepping in, the bank's decision to ban Bitcoin trading for its employees may have brought Europe's finance industry closer to issuing a guideline on the matter.
The European Banking Federation hasn't yet adopted an official stance on cryptocurrencies, spokesman Raymond Frenken said by phone. But as lenders start imposing their own bans, the organization may need to come up with a clear position, he said.
"If banks like Nordea are going to have a very specific policy on this — and we're hearing regulators are taking a look at this, including the ECB and central banks — probably it will be that it's changing. With developments like this, it's more likely that it will have to be discussed in the context of the European Banking Federation," Frenken said.
Is it a Currency?
Financial supervisors are grappling with how to regulate cryptocurrencies, as Bitcoin's recent plunge underscores concerns that its volatility can wipe out retail investors. South Korea may ban cryptocurrency exchanges altogether, and whether they're even currencies is up for debate. The European Securities and Markets Authority says it's monitoring the situation.
Nordea will impose its ban from Feb. 28, after its board agreed to take a stand due to the "unregulated nature" of the market, spokeswoman Afroditi Kellberg said by phone on Monday. The bank had about 31,500 employees at the end of the third quarter.
Nordea said its policy "includes transitional provisions for staff with existing holdings and allows for certain exceptions." Employees who already own Bitcoin are "permitted to keep existing holdings."
Other Nordic lenders are also formulating a position on the matter. Danske Bank A/S, Denmark's biggest financial group, said it discourages employees from trading Bitcoin but has yet to decide whether a full ban is required.
"We're skeptical toward cryptocurrencies and are advising our employees not to trade them, but we don't impose an actual ban," Danske spokesman Kenni Leth told Bloomberg. "We're currently analyzing the situation and time will tell whether there'll be a formal ban."
In Denmark, the FSA notes that it has issued a "general warning" to the public about the risks, but says whether or not to impose curbs is up to lawmakers. "The question as to whether or not cryptocurrencies should be subject to financial regulation is political and hence the FSA cannot comment," spokesman Soren Moller Christensen said by email.
Clients
Danske isn't offering its clients trading in Bitcoin or products like it. "Due to lack of maturity and transparency in the various cryptocurrencies, we have decided not to provide trading of such securities on our various investment platforms," Leth said.
Nordea said its treatment of Bitcoin with regard to clients isn't a policy as such, "but it's important to emphasize that it is not something we recommend our customers to invest in," the bank said in an email. "Just like every other bank trading platforms, Nordea Investor provides access to trade all securities listed on, for example, Nasdaq." In practice, this means that Nordea's "self-services customers can purchase cryptocurrency-related products through the platform, but it is important to emphasize that it is not something we recommend."
Nordea Chief Executive Officer Casper von Koskull voiced his skepticism toward cryptocurrencies back in December. In an interview in Stockholm, the CEO called Bitcoin an "absurd" construction that defied logic. He also said "there's a lot of evidence that Bitcoin is basically being used for financial crime."
Dimon Says He Regrets Bitcoin Comments, Calls Blockchain 'Real'
Nordea cited a lack of rules protecting investors, and listed risks ranging from volatility to liquidity and financial crime. "Given these high risks, and in line with our role in the banking industry to maintain high standards of conduct, Nordea is not supportive of staff investing in cryptocurrencies," the bank said.
Frenken at the EBF said that as far as he knew, Nordea is the first major European bank to impose such a ban. "I haven't heard of any other bank banning Bitcoin," he said. "This could very well be a first."
Read more: http://www.bloomberg.com/news/articles/2018-01-22/nordea-bans-employees-from-trading-bitcoin-spokeswoman-says