One of the biggest cryptocurrency exchanges has been down for hours and its clients are starting to freak out.
Kraken went offline at 9 p.m. Pacific Time on Wednesday for maintenance that was initially scheduled to last two hours, plus an additional two to three hours for withdrawals, according to an announcement on the San Francisco-based company's website.
"We are still working to resolve the issues that we have identified and our team is working around the clock to ensure a smooth upgrade," according to a status update on Kraken's website posted seven hours ago. "This means it may still take several hours before we can relaunch the site."
In previous updates, Kraken mentioned it's working on "unexpected and delicate issues" and assured clients their funds were secure, adding that "Yes, this is our new record for downtime since we launched in 2013. No, we're not proud of it."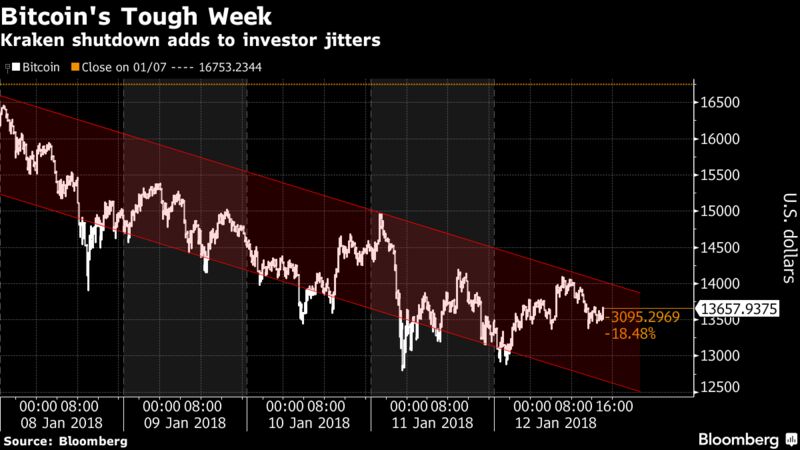 The short history of cryptocurrencies has been rife with hackers and stolen bitcoin, so issues with exchanges are quick to unnerve investors. In the most famous case, Mt. Gox filed for bankruptcy in 2014 after losing hundreds of thousands of its clients bitcoins. Less dramatically, popular websites such as Coinbase have frequently crashed or slowed down in the past few months as they've been unable to handle the increased traffic coming from the growing number of investors trying to cash in on the crypto boom.
Kraken is one of the exchanges that the CME Group Inc. is using to price the bitcoin futures it introduced last month.
Lack of communication from fledgling companies, delays in withdrawals and transfers, high fees, and the creeping fear of a malicious attack are some of the issues largely retail investors face, and discourage many more from jumping in.
With not even a phone number or e-mail listed on Kraken's status page, the exchange's clients vented on Twitter.
A Twitter user with the name of Victor M. said "im seriously considering suing kraken. anyone interested as well?" The Tweet got more than 300 likes. A user with the name North Canton Cab Com tweeted to Kraken saying "due to the length of down time can you at least assure us that our coins and accounts are safe and havent been hacked or stolen please, seems beyond any normal circumstance at this point when people are worried sick!"
Others are resorting to humor, with Twitter user @Subbedeius posting "Kraken is the best platform to avoid panic-selling. It just doesn't work when sh*t hits the fan."
For more on cryptocurrencies, check out the podcast:
Read more: http://www.bloomberg.com/news/articles/2018-01-12/crypto-exchange-kraken-goes-dark-and-user-anxiety-surges