JPMorgan Dips a Toe Into Analysis of Bitcoin Futures Volatility
Jamie Dimon may think bitcoin is a "fraud," but that isn't stopping JPMorgan Chase & Co. strategists from analyzing volatility for the cryptocurrency.
"At a time when volatilities across asset classes have plummeted, this presents us with the oddity of an asset with extreme daily moves," strategists Matthias Bouquet and Marko Kolanovic wrote in a note to clients Thursday. "Realized vols in BTC are unlike anything we've seen in other asset classes."
Bitcoin's surged more than 1,500 percent this year and prompted two major derivatives exchanges to offer futures contracts. That's put the cryptocurrency on just about everyone's radar, leading more financial institutions to attempt to analyze the asset using traditional tools. The JPMorgan analysts call the pursuit "mostly gratuitous," yet they give it a shot.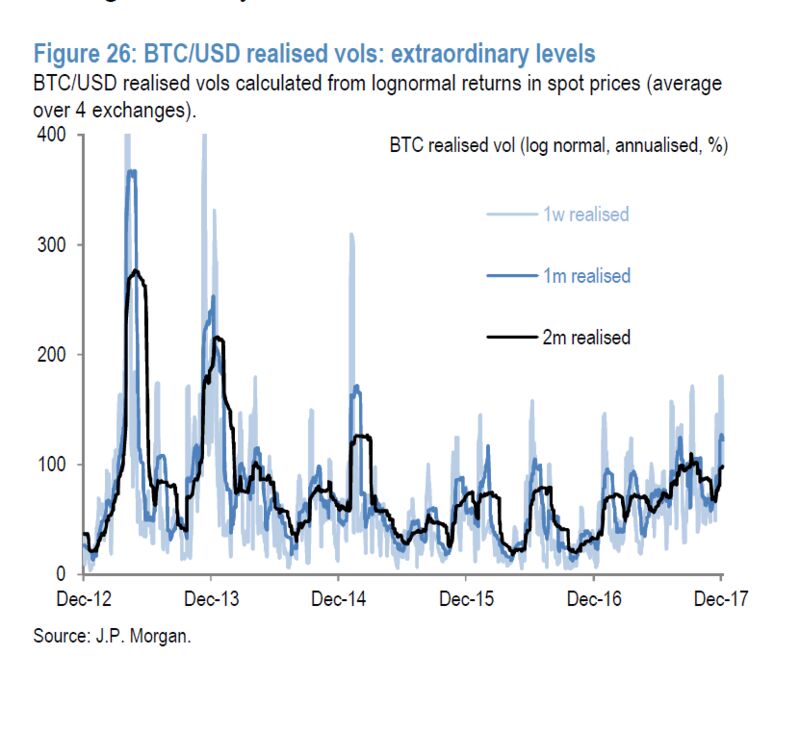 The first thing they looked at was the fair value of a bitcoin forward, constructing a curve that uses the mining yield discounted by the cost of mining.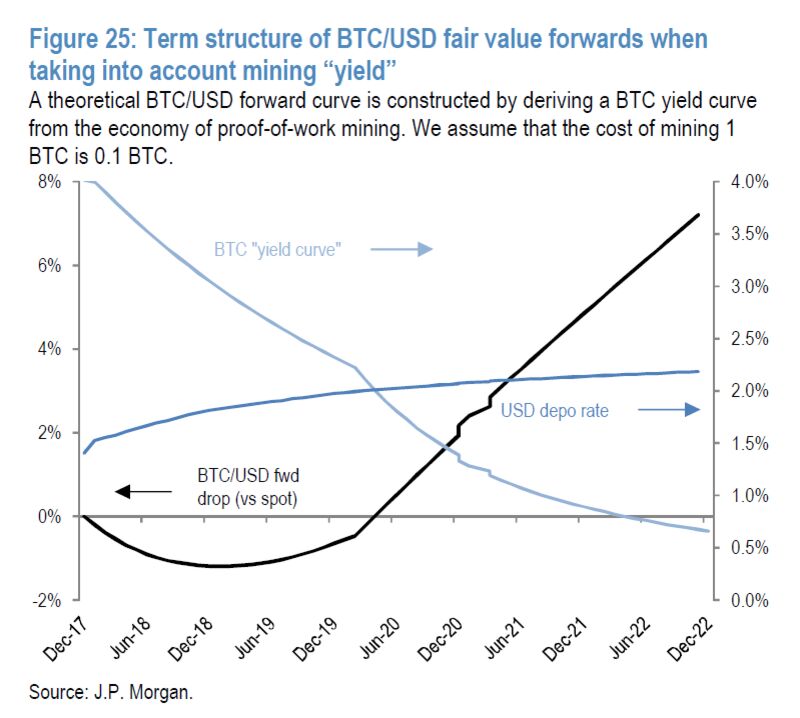 That comes with one big caveat, though.
"It is obvious that, due to the novelty of the market, low liquidity, speculative interest from nonminers, and extreme volatility of BTC, there is no practical reason for BTC futures to converge to these theoretical forwards," they said.
The strategists also looked at the cost of options, concluding that there's a high risk premium for out-of-the-money contracts — which, they add, is pretty standard in regimes of high realized volatility.
"The signs of implied risk-reversals rarely change on a high frequency basis, except in the notable case of precious metals. From that point of view, the claims of Bitcoin behaving as 'digital gold' find a justification," the strategists wrote. "Since the value of Bitcoin is highly dependent on market sentiment, one can expect 'BTC/USD risk-reversals' to experience significant swings."
Read more: Sept. 13, JPMorgan's "Gandalf" Kolanovic Joins Boss in Bashing Bitcoin
There's even a tentative bitcoin vol smile — "because, why not" — as the report says. JPMorgan derived it looking at the historical distribution of spot returns at one-month maturities, using option-market conventions for gold.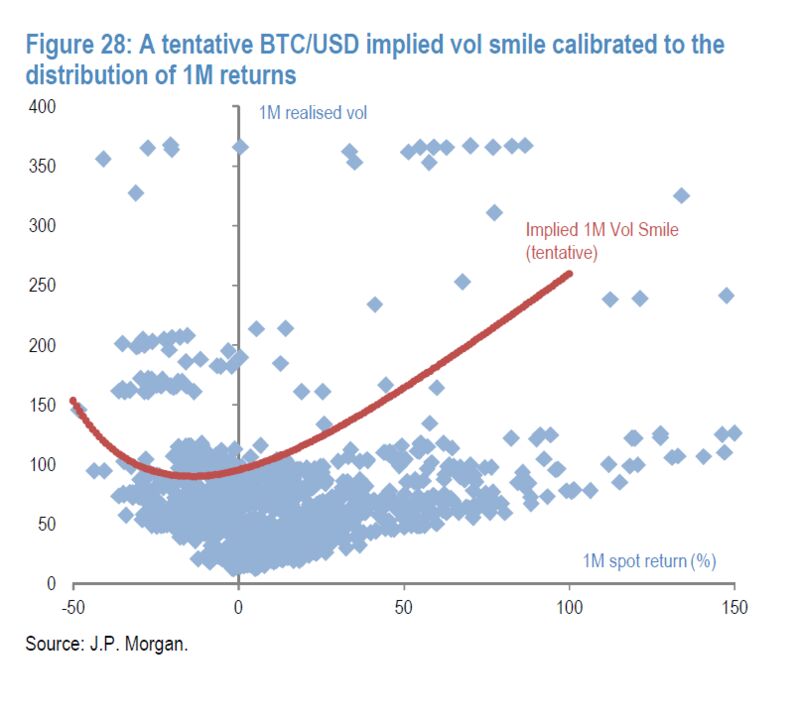 With a market hungry for news and analysis in the crypto world, the JPMorgan attempt could start to gain momentum, or perhaps inspire others to come out with their own ideas to figure out what it all means. But it appears that at least for now, no matter what metrics are used, it all comes back to this: pretty much everything about bitcoin is really volatile.
Read more: https://www.bloomberg.com/news/articles/2017-12-21/jpmorgan-dips-a-toe-into-analysis-of-bitcoin-futures-volatility