Cryptocurrencies dropped after the second South Korean exchange in as many weeks said it was the victim of a theft, renewing fears about the security of digital-asset trading venues.
Bithumb, ranked seventh in the world by traded value on Coinmarketcap.com, said on Wednesday that about 35 billion won ($32 million) worth of coins were stolen. The exchange said it will compensate victims, adding that it has halted cryptocurrency deposits and withdrawals and moved investor assets to a so-called cold wallet that's disconnected from the Internet and less vulnerable to hacking.
Bitcoin, the largest cryptocurrency, dropped as much as 2 percent and was trading at $6,598 as of 10:06 a.m. in Hong Kong, bringing this year's decline to 54 percent, according to Bloomberg composite pricing. Other tokens including Ripple, Ethereum and Litecoin also retreated.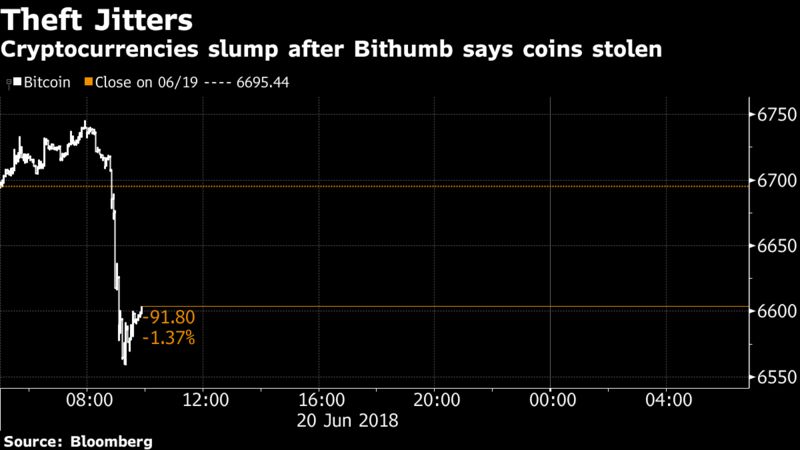 Enthusiasm for virtual currencies has waned this year partly due to a string of cyber heists, including the nearly $500 million theft from Japanese exchange Coincheck Inc. in late January. Last week, a South Korean venue called Coinrail said that some of the exchange's digital currency appeared to have been stolen by hackers, but it didn't disclose how much.
Read more: Crypto's Wild West Traders Get Some Pointers From Financial Pros
South Korea was at the center of last year's global crypto-mania, playing host to some of the world's most active exchanges. Demand for Bitcoin was so extreme at one point that it lifted prices in the country 50 percent higher than those in America.
The speculative fervor has since cooled amid a government crackdown, but Korean exchanges are still among the world's most active. The country's policy makers are debating comprehensive regulations for cryptocurrencies, with proposals ranging from shutting down local exchanges to allowing them to operate under increased supervision.
Click here for a QuickTake explainer on cryptocurrencies in South Korea.
Some Asia-listed stocks with exposure to digital currencies fell on Wednesday. South Korea's Omnitel Inc. and Vidente Co. retreated at least 9 percent.
Read more: https://www.bloomberg.com/news/articles/2018-06-20/cryptocurrencies-fall-as-korean-exchange-says-coins-were-stolen