Bitcoin Whale Sightings Are Leaving Cryptocurrency Traders Jumpy
Occasional sighting of Bitcoin whales are leaving advocates of the biggest cryptocurrency anxious after what's already been a choppy week of trading.
Sudden market swings in the cryptocurrency this week have left price charts looking like a jack-o-lantern's smile. And some investors are blaming the gyrations on actions by large Bitcoin holders, known as whales.
"The best explanation is coming from those whales in the market who want to have some sort of control on what's going on," said Jonathan Benassaya, the founder and chief executive officer at San Francisco-based IronChain Capital. "It's some sort of manipulation from actors."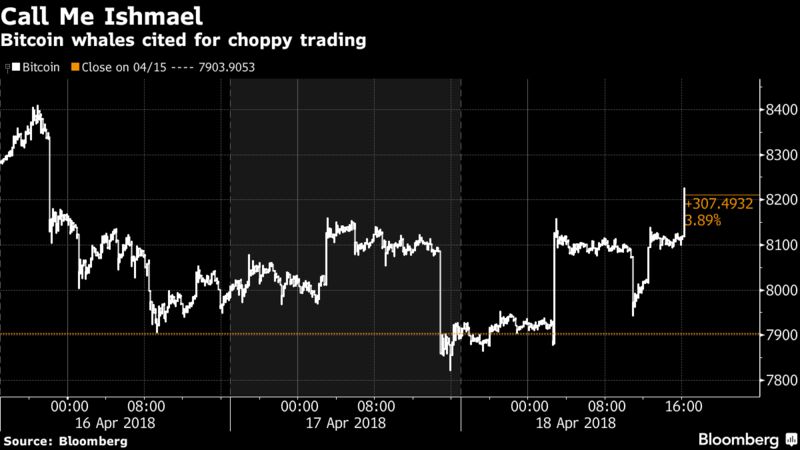 Bitcoin's recent choppy moves aren't that unusual, cautioned Tom Lee, head of research at Fundstrat Global Advisors. "I think it feels off right now because, you know, we've been on a down trend since December, and now, even though the volatility hasn't changed much, it's hard to tell if Bitcoin is trying to stage a recovery or if it's continuing its down trend," Lee said.
In a less mature market that lacks the same history and complexity that the stock market holds, the digital currency is a lot more vulnerable to liquidity movements. "It's the state of it now because there isn't a ton of liquidity and there is regulatory uncertainty and general nervousness," he said.
Read more: https://www.bloomberg.com/news/articles/2018-04-18/bitcoin-whale-sightings-are-leaving-cryptocurrency-traders-jumpy