Bitcoin Spikes After G-20 Expresses No Desire for Crypto Oversight
Bitcoin is rallying after the Group of 20 nations steered clear of calling for a coordinated clampdown on the cryptocurrency market.
The largest digital currency jumped as much as 5.5 percent to $8,889 after hovering between 8,400 and 8,600 for the past day. Bitcoin is clawing its way back from a drop below $8,000 to a one-month low on Monday.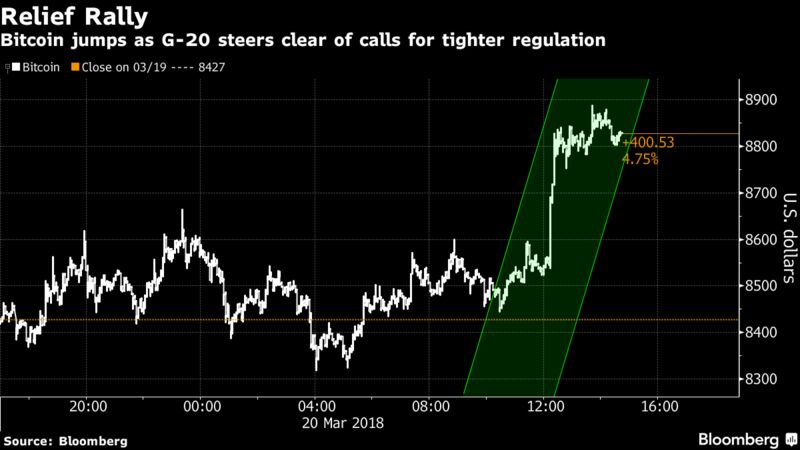 While the G-20 highlighted the rising risk of cryptocurrencies, traders are relieved the ministers didn't call for tighter regulation, according to John Spallanzani, a portfolio manager at Miller Value Partners. Investor concern about a coordinated clampdown had grown after the ministers said they would discuss a common approach to cryptocurrencies at their meeting in Buenos Aires on Monday and Tuesday.
The digital currency is spiking as the "G-20 isn't really throwing cold water on crypto," Spallanzani said.
Bitcoin is still down more than 50 percent from an all-time high of almost $20,000 in December as the rest of the digital coin market slumps on concern tightening regulation globally will dampen trading and adoption.
The G-20 communique said that digital coins are assets, which "lack the key attributes of sovereign currencies," and that "at some point they could have financial stability implications." The G-20 set a July deadline to decide on cryptocurrency steps, without being more specific on what that meant.
Read more: http://www.bloomberg.com/news/articles/2018-03-20/bitcoin-spikes-as-g-20-expresses-no-desire-for-crypto-oversight