Bitcoin Rebounds Above $14,000 as Investors Find a Bottom
Bitcoin appeared to find a bottom Friday, rebounding above $14,000 after moves by South Korea to curb speculation and protect retail customers sent the cryptocurrency sliding yesterday.
Bitcoin climbed 5.3 percent to $14,684 at 12 p.m. in New York, composite Bloomberg pricing showed.
The digital currency has slumped about 27 percent from its record $19,511 reached on Dec. 18, when CME Group Inc. introduced its futures contract. While bitcoin's debut on regulated derivatives exchanges in Chicago was thought to have given it a new mainstream channel for investors to tap, so far trading volume has been limited.
For more about cryptocurrencies, see the following:
Move Over Bitcoin, New Blockchain Applications Are 2018's Story
Bitcoin's Store of Value Is Eroded by Its Digital Rivals: Gadfly
Get Set for Petro, Venezuela's Cryptocurrency Answer to Bitcoin
Bitcoin the New Mattress Full of Cash for Divorce Cheats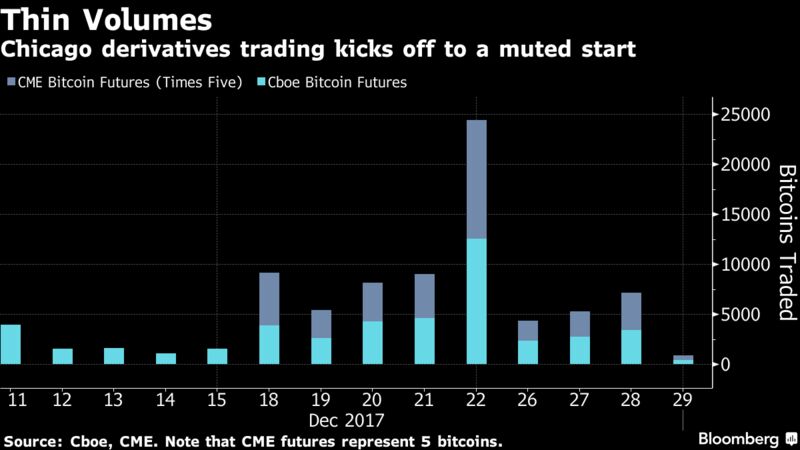 "Short-term support is about $13,500 — we've hit that the last couple of trading sessions," Chris Gersch, director of strategy at alternative investment management firm Bell Curve Capital LP in Chicago, said on Bloomberg Television. "Ultimately I think it moves lower and tests last week's lows around $12,400 in the futures contract," he said, referring to the CME version.
The South Korean government has been among the loudest voices of concern about a possible speculative bubble in the largest cryptocurrency, which is still up about 1,500 percent for the year. The country is something of a bellwether for global demand, with South Koreans paying premiums about 20 percent over prevailing international rates as of Friday.
For a menu of cryptocurrencies on the Bloomberg, see:
VCCY
For more on cryptocurrencies, check out the   podcast:
Read more: http://www.bloomberg.com/news/articles/2017-12-29/bitcoin-holds-above-14-000-as-investors-find-a-bottom-for-now