Bitcoin Plunges After Plans for Split Called Off
Bitcoin continued its retreat from a record high after traders weighed in on the cancellation of a technology upgrade that threatened to disrupt the biggest cryptocurrency.
Investors who were expecting the extra coins stemming from a split of the chain may be taking profits, while others who are disappointed the update was scrapped earlier this week may be switching to alternative coins, according to Charlie Lee, founder of litecoin, the fifth-largest cryptocurrency by market value.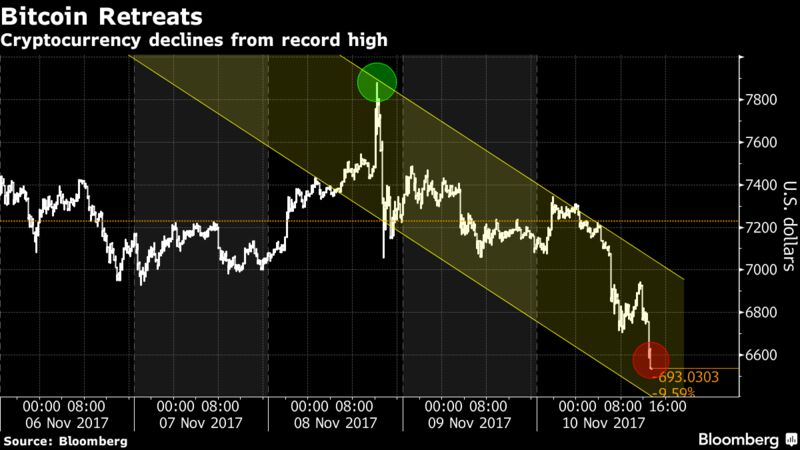 While bitcoin soared to a record $7,882 within minutes of news that it would avoid another split on Wednesday, the gains have evaporated. Bitcoin is now trading more than $1,000 below where it was after a faction of the community scrapped plans for a so-called hard fork. Bitcoin was down 8 percent to $6,575 at 2:19 p.m. in New York.
Some speculators are disappointed they won't get the additional coins that would have been created by a hard fork. While bitcoin splits are potentially disruptive, they've so far amounted to free money for holders of the cryptocurrency. Bitcoin Cash, the result of a hard fork in August, has climbed to about $900 from as low as $565 on the day the split was canceled, while bitcoin has slipped almost 10 percent after touching a record right after the news.
The main architects behind a change to its underlying software, known as SegWit2x, canceled their controversial plans Wednesday, saying they wanted to avoid deepening divides in the developer community.
Bitcoin developers, users and miners — those running computers that crunch the complex math required to verify transactions — have been trying to agree on ways to make transactions faster, as the network's growing popularity has led to congestion. After an initial upgrade in August known as SegWit, short for Segregated Witness, a group in the bitcoin community was calling for SegWit2x. The second upgrade hadn't gained as much support and was only a week away from confronting bitcoin with one of its hardest tests ever.
Bitcoin had climbed from about $6,00O since CME Group Inc., the world's largest exchange owner, said on Oct. 31 that it wants to offer bitcoin futures by the end of the year, only a month after dismissing such a plan. Cboe Global Markets Inc. said in August that it wants to sell futures. Both need approval from the U.S. Commodity Futures Trading Commission.
Skeptics of the digital currency ranging from billionaire Warren Buffett to JPMorgan Chase & Co. Chief Executive Officer Jamie Dimon have warned that the unregulated asset is a speculative bubble in danger of bursting after its almost sevenfold increase this year.
Read more: http://www.bloomberg.com/news/articles/2017-11-10/bitcoin-slumps-as-developer-community-remains-divided