Bitcoin Plunges 29% From Record High
Bitcoin plummeted, extending its drop to 29 percent from a record high, on speculation some traders were buying its offshoot amid a struggle over the digital currency's future.
Bitcoin dropped to as low as $5,605 on Monday, from a record high $7,882 reached on Wednesday, data compiled by Bloomberg show. Bitcoin cash rose to $2,426 on Sunday, before plunging to $1,379 as of 9:32 a.m. in Hong Kong, according to Coinmarketcap.com.
Bitcoin has slumped since the cancellation of a technology upgrade to increase its block size, amid speculation supporters of the proposal bid up bitcoin cash to undermine the original bitcoin.
"It's the bitcoin cash pump," said Arthur Hayes, chief executive officer of BitMEX, a cryptocurrency exchange based in Hong Kong. "It's obviously a coordinated action of certain individuals who have a vested interest in bitcoin cash."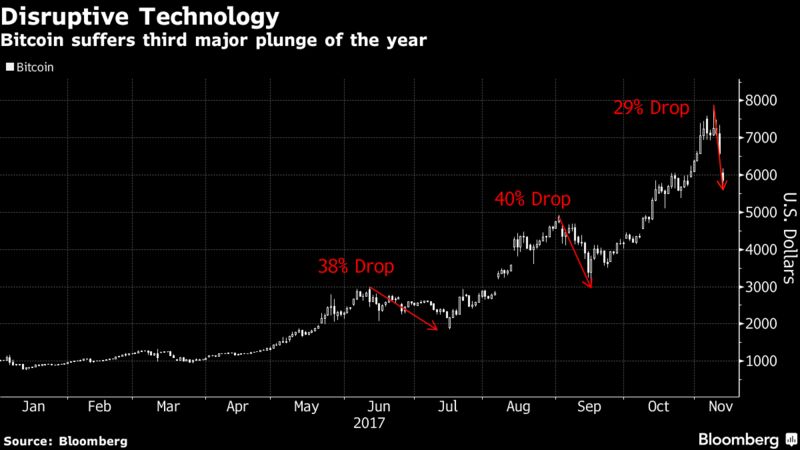 At the heart of the debate is how bitcoin's underlying technology can accommodate rising transactions as its popularity booms. While increasing its block size would help, opponents argue it would only concentrate mining power, undermining the decentralized nature of bitcoin.
Read more: https://www.bloomberg.com/news/articles/2017-11-13/bitcoin-plunges-29-from-record-high-as-civil-war-intensifies